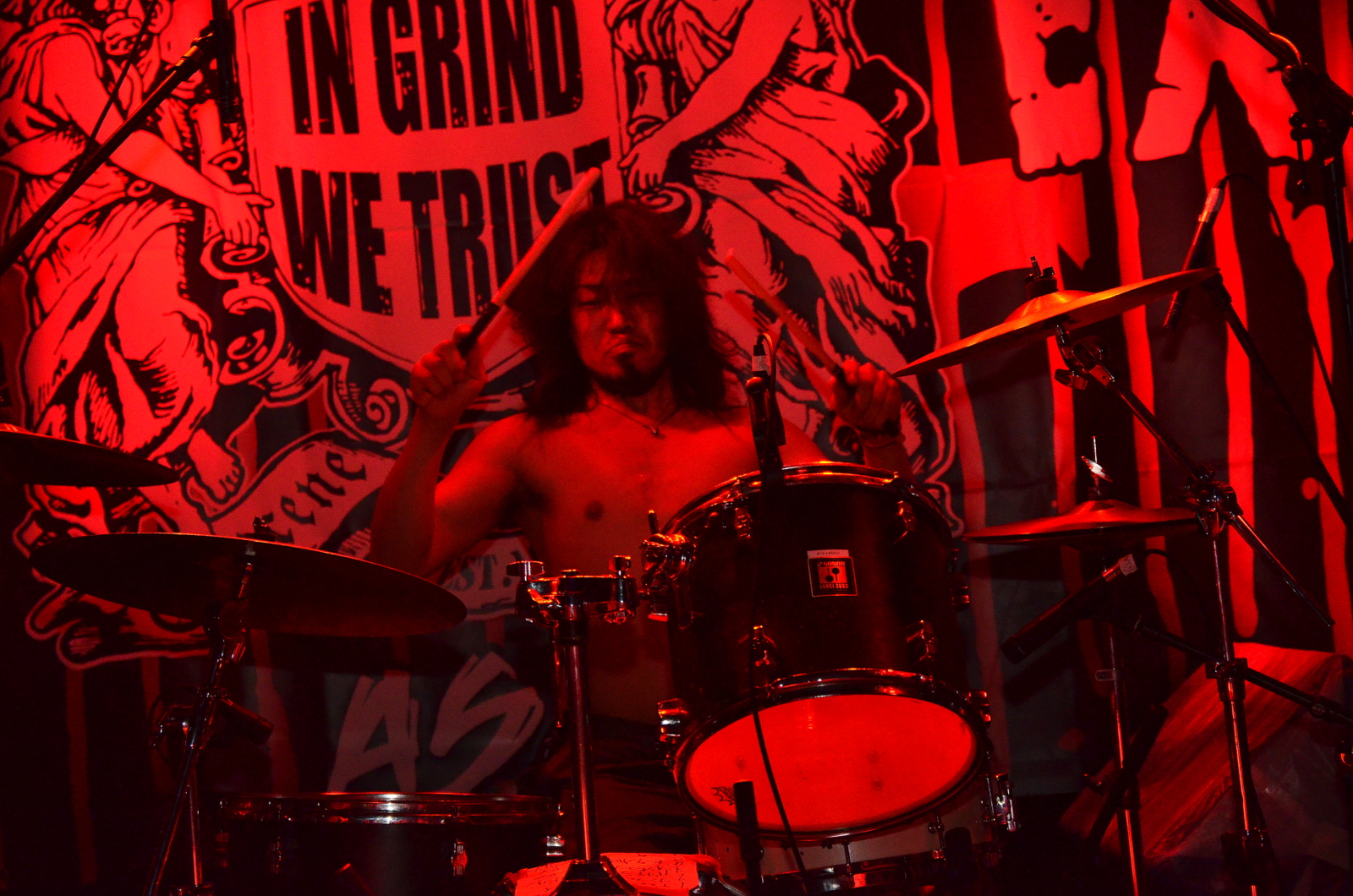 Just now...Hee-Chung's heartbeat stopped....." ..... I answered, "What did you say??? Really??? Are you serious?????????" ..... I just couldn't believe his words... As I visited Hee-Chung some days ago and I even received his e-mail around 11:00 AM... Suddenly, he has gone.....and we will miss him forever...
.
I have respected Hee-Chung's attitude towards drums & the underground scene. Probably these words could be a "HINT" to describe his character/personality.... "He was thinking about Drums 24 hours" "Drums CRAZY !" "Drums ADDICTED"...... That's him.....
I remember how proud he was of playing at OBSCENE EXTREME ASIA in JAKARTA. And he really enjoyed the whole festival. I shared a hotel-room with him so we talked a lot before falling asleep...it's an unforgettable memory... He was very happy about the recording session in a small studio in JAKARTA after the festival. For him, playing drums was much more interesting than usual sightseeing!
But a terrible disease had been sneaking up... KOREA 2-days shows in October 2013 was a tough job for him... He was struggling with an intense pain in his shoulder.... things getting worse....at OBSCENE EXTREME ASIA in TOKYO 2014, I'd like to say, it was a miracle to play such extreme drumming in his condition......But he made it. What a man!!! And his last show in March 23rd at GIFU.....he appeared with a bandage....he looked like a "Broken Bone" patient..... So when our set had started, I announced to the audience, "our show might be stopped....coz our drummer's condition is extremely bad...hope you understand..." and....he made it!!! Simply it was INCREDIBLE!!! He was a SAMURAI!!!
After 9 months of stressful, painful fighting in a hospital...unfortunately, his "BODY" went to another world...but his "SPIRIT" is always with us...He did not give up hope until the last moment....He was always talking about the plan after his "COMEBACK". I was (and still am) very proud of being your band-mate, Hee-Chung ! You were (still are) the MAN!!! THANK YOU !!!
UNHOLY GRAVE would like to dedicate this OBSCENE EXTREME ASIA 2015 show to Hironori "HEE-CHUNG" Suzuki. Huge Thanx to CURBY/OBSCENE for giving us this opportunity.
Hee-Chung's drum-mate/rival, "TEMI"(Shikabane/Vektor/Guevnna) will play drums for this special show. Big Thanx to Mr."TEMI"Yamaguchi and Mr."KAZU" Yamada for helping with Drums
duties for UNHOLY GRAVE in this difficult period.
Thank you guys ! You are SAMURAI-DRUMMERS!!!"
Thanx & respect,
TAKAHO/Unholy Grave